As a car dealer with multiple locations, analyzing performance can be a difficult task. Where is a new vehicle going to best perform? What vehicles should you be stocking your lots with? How fast do vehicles move at different locations? Usually, dealers have a good idea of this on their own, but if your dealership has multiple locations spread across the country, it can be difficult to pinpoint which strategies work, and which don't on a larger scale.
That's why we've just launched our new Group Velocity Analytics tool, aimed at helping larger dealership groups eliminate the guesswork and headaches of managing broad-scale inventories. This data-driven feature gives dealers not just the "what", but the "why" of organizing inventories across multiple dealership locations.
This brand-new feature provides dealers with a variety of data metrics based on location and vehicle type, even allowing them to drill down to specific vehicle models. Metrics such as store velocity and market velocity tell dealers how quickly a vehicle typically sells at their dealerships, or within their local markets. Furthermore, an action tab gives dealers customized recommendations as how to best stock their inventories.
So, exactly how does the Group Velocity Analytics tool help make your life easier as a large-scale car dealer?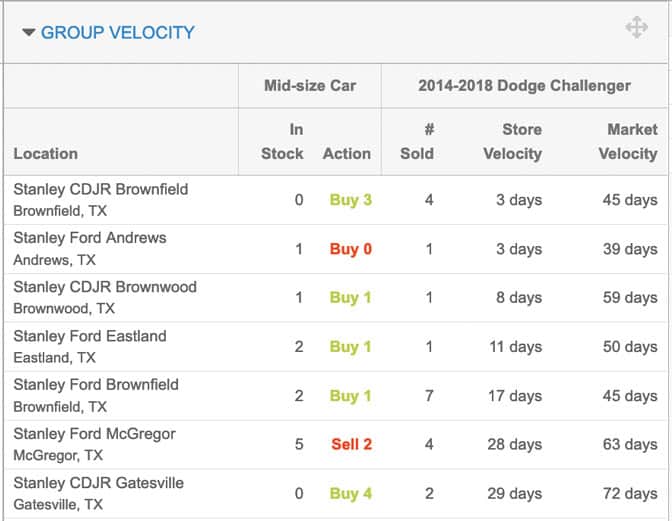 No More Guesswork! A variety of data points show you a clear picture of how you should allocate your inventories and how each of your locations are performing with every type of vehicle that comes on your lot.
Get Time Back in Your Day. By eliminating the need for speculation, you can save you and your team hours of time every week, allowing you to allocate your time elsewhere and help your dealership run more efficiently.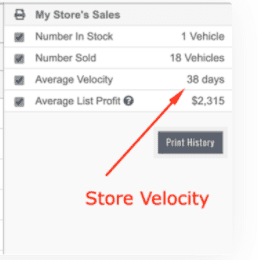 Maximize Profitability. Group Velocity Analytics tell you when and where you should place newly appraised vehicles for maximum return. This not only increases the performance of your dealerships but leads to long-term profitability.
Stop the guessing game and start using data to help connect your dealership to profitability. To learn more, schedule a demo with us today.