Dealerslink is the optimal inventory solution for leading dealerships nationwide. Innovation pioneers in the automotive industry for 15 years, Dealerslink has been developing dealership applications for analyzing, acquiring, merchandising, pricing, and selling cars. Here are just a few of their groundbreaking industry-first innovations:
The first dealer-to-dealer vehicle marketplace
Founded in 1999 Dealerslink created the country's first dealer-to-dealer marketplace. The Dealerslink Marketplace allows dealer members to purchase front-line inventory directly from each other without needing to travel to auctions while saving thousands in vehicle buy fees. It also provides dealers with an exit strategy on every unit allowing inventory to be offered wholesale directly from the lot without incurring transport costs or sell fees. In 2015 Dealerslink expanded the marketplace capabilities to include AuctionLink, a weekly live online auction with guaranteed reserve prices below wholesale book. In 2017 Dealerslink released its mobile Marketplace App which made it even easier for dealers to source inventory from anywhere at any time with a few taps.
The first mobile VIN scanner app
In 2010 Dealerslink brought the first VIN scanning app to market, FastBook. It was also the first booking app that allowed users to simultaneously compare all book values side by side. With further dealer feedback refinements, FastBook has become the fastest and most effective VIN-capturing and appraisal device available.
The first cloud-based inventory camera
In 2011 CloudCam was the first cloud-based Android OS camera designed for dealerships. It captures the VIN, matches vehicle photos, and automatically uploads the images to dealer and third-party websites saving thousands of man-hours a year. With additional updates for smartphone use, and the ability to shoot professional quality images and 360° vehicle spins, CloudCam is the fastest way for dealers to get their vehicles online.
The first F&I Calculator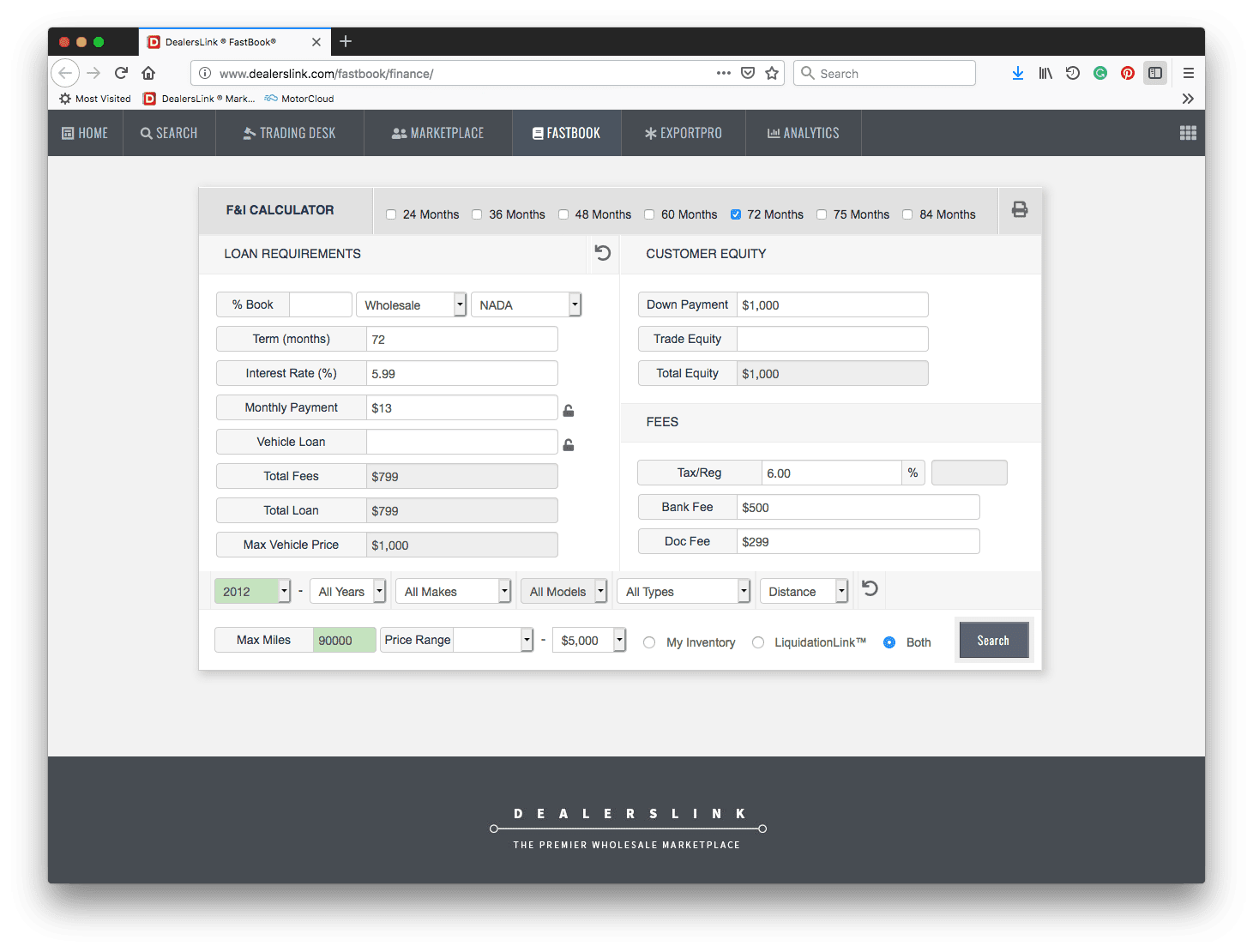 The F&I department is one of the most important profit centers in any dealership. The F&I Calculator allowed managers to make finance and interest calculations simple by displaying everything they need to structure the deal in one place with a minimum number of clicks and no screen toggling. An Inventory Search feature allows desk managers to find units in their inventory, group inventory, or out on the Dealerslink Marketplace that fits a particular bank call.
The first to integrate OEM Build Data
Integrated OEM Build Data allows dealers to instantly see exact vehicle equipment and options from the OEM to build out VDP's and offer customers more accurate and faster appraisals. Further refinements allow for exact trim matching on all vehicles. This even includes makes and models with a huge number of possible configurations like the Ford F150. Now Dealerslink dealers will the most accurate, direct from the factory, booking experience.
VIN Finder Chrome Extension
In 2019 Dealerslink released the FastBook VIN Finder, an appraisal app extension for the Chrome browser that made booking out any vehicle anywhere online super-fast. The extension identifies VINs on any web page and launches FastBook as a side column. Just right-click to book out any vehicle, run history reports and view competitive data sets.
The first Vehicle Condition Reporting App for consumers
In early 2020, Dealerslink was the first to release a free consumer-facing app that allows customers to submit their trade-in vehicle online to the dealership. The MotorCloud App guides the user through a 33-point vehicle walk around, prompting the user to put in info, add photos and upload the vehicle to the cloud. They can share the link with anyone or submit the vehicle to CloudCash, where thousands of dealers on the Dealerslink Marketplace can bid on it.
The first retail vehicle price heat map
By compiling retail pricing data from over 50,000 dealerships nationwide, Competition View Heat Maps geo-plots vehicle retail pricing with color-coding so dealers can quickly compare real-time prices of units with exact trim packages available in their market and beyond.
Lost Deal Indicator
In another industry first, the Dealerslink appraisal manager will flag lost deals. If another dealer stocks in and offers a vehicle for sale from one of your customers, the Lost Deal Indicator will track it and flag it. Allowing you to see who you are losing your deals to and when customers are no longer active buyers.
Continued Innovation in the Auto Industry
As industry innovators and true dealer advocates, Dealerslink is focused on helping the success of dealerships nationwide. Dealerslink is built by dealers for dealers and will continue its unrivaled cycle of innovation to bring dealers the best possible inventory solutions every day.
Dealerslink makes it easy to optimize profitability and maximize margin on every turn. For a live demonstration or for more information, click here.