The used car industry has always been a dynamic and highly competitive market. Over the years, we've seen ebbs and flows, and dealerships have needed to adapt to changing trends and consumer preferences. However, in recent years, there has been a noticeable shift in the market that has had a profound impact on dealerships and their bottom line. The live market window for used vehicles has shrunk from 90 days to as little as 10-17 days. In this blog post, we'll explore why this trend is happening, its impact on the industry, and what dealerships can do to change the status quo.
The shrinking live market window is a direct result of the rise of online marketplaces and price comparison tools. In the past, dealerships could hold onto a car for up to 90 days, during which time they could gradually lower the price until it sold. However, with the advent of online platforms, consumers can now easily find and compare prices from dealers all over the country. This has created a more level playing field, and dealerships are now competing with a greater number of competitors, many of whom are willing to undercut each other's prices to make a sale.
The result is a race to the bottom, where dealerships are lowering prices aggressively to generate leads, instead of putting the car in the right market for the right price. This causes a snowball effect, where every dealer is trying to undercut their competition, leading to a sharp decline in the vehicle's price. For example, a car that was initially priced at $25,000 may now be priced as low as $20,000 after only 10-17 days of aggressive price drops. This causes equity depreciation for dealerships and consumers who have that vehicle, affecting the entire market.
The image below is showing the increase in book values on the listed vehicles from April to May 2023. This is a 20 day report where these vehicles all had an increased book value between $2,100 – $3500.
This second image is a 10 day report during the month of May 2023 with similar vehicles in the same market. This image is showing the price drops of vehicles anywhere between $2000 – $6000.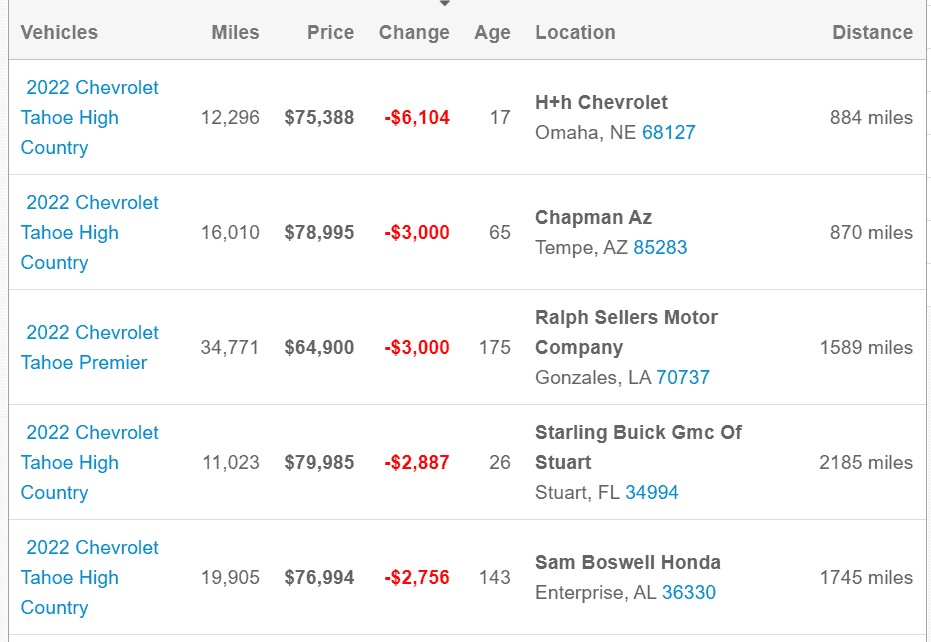 The problem with this approach is that it doesn't take into account the true value of the vehicle nor the market demand. Instead, dealerships are focusing solely on generating a lead, rather than looking at the bigger picture.
"The right car at the right price in the right location. That's where WE come in. It doesn't matter if you're the cheapest".

Travis Wise – Senior VP Sales
By accurately pricing a car according to its value and putting it in the right market, dealerships can avoid this race to the bottom and ultimately get a better return on their investment.
So how can dealerships change this trend and expand their live market window? Firstly, they need to take a more holistic approach to pricing their used vehicles. This means using the right valuation tools that take into account the regional market conditions, vehicle history, and demand. Secondly, they have to focus on the long-term value of the vehicle they are selling rather than solely on getting instant revenue. Dealerships that understand how to price their cars accurately and communicate this to their customers will ultimately be more successful in the long run.