Dealerslink is introducing auto dealerships to some new and improved products and services in their software lineup. This includes a Core Inventory Search Analytics, an all-new Want-Ad bid matching system, and the first step in their evolution to a text-first platform.
Core Inventory Search Analytics
Utilizing historic sales trends and by leveraging the available data from its system, Dealerslink has placed used vehicles into two distinct categories: most sold and fastest selling vehicles. They looked at the most sold units and ranked those, then ranked and re-sorted those again into which ones are the fastest-selling units. This has enabled Dealerslink to accurately assess how each vehicle stacked up against one another. This evolution is presented to their customers in their Core Inventory dashboard widget.
"We are using previously sold analytics to help you buy for the future with optimal accuracy!,"said Devon Peterson, VP of Dealer Services at Dealerslink.
The 5 core inventory vehicles are listed along with how fast they move off the dealer's lot.
"This helps to very quickly identify which vehicles the dealership should stock their lot with on a continuous basis to keep inventory moving and to increase sales," highlighted Peterson.
Additionally, if a dealer has Dealerslink's DMS profit product, they will see an additional profit graph. This graph lists the top 5 most profitable vehicles that can be quickly viewed via the dashboard widget.
Peterson continued, "The nice part is that we are giving dealers the info and a quick and easy way to search for these vehicles. This puts every single piece of the dealer's core inventory to the Dealerslink search. Dealers can update search parameters to look for core inventory and start making bids to stock their lots. Since being released in October 2022, what dealers have been liking most is that the utilization of sold data is helpful in guiding them to the vehicles that they need to purchase."
The All-New Want Ad Bid matching system
In the Dealerslink system, when a dealer searches the wholesale marketplace, only vehicles that dealers have set up through a manual or automated process are being shared. All dealers have a reserve of vehicles they are not actively sharing on the marketplace. Therefore, Dealerslink matches up all Want Ads with all vehicles in the marketplace then sends notifications to dealers that have vehicles matching the want ads. Dealers are then able to cast a wide net when searching for specific vehicles.
Dealers who are looking at the want ad bids from other dealerships, now have access to the want ad, the bid price and cost all in one place – making the decision to either offer the vehicle or to keep it on their lot much more efficient.
The benefit to the dealers is it's an easier solution for the dealer to go out and bulk offer on a vehicle across the entire marketplace. It's also easier to decide to sell based on the initial bid.
Text Platform & New Appraisal Print Sheets
This is the first step in Dealerslink's evolution to a text first platform. The standard communication since the beginning has been email. Dealerslink is now moving to a text-first platform. Noted Peterson, "The world has changed since we started. More people are attached to their phones and are more likely to read a text vs. an email. The appraisal offer is the first step in a complete evolution of Dealerslink. Dealers are now able to send their customers vehicle appraisals via text.
The appraisal offer allows the dealer to customize the vehicle appraisal to the customer including expiration dates, notes and book verifications to name a few. Once the offer is complete, it's ready to be shared. An individual URL is generated for the appraisal. The next step is to add the customer phone number and send the text. The customer will receive a smaller, fully redesigned modern version for all printable views to share across different platforms.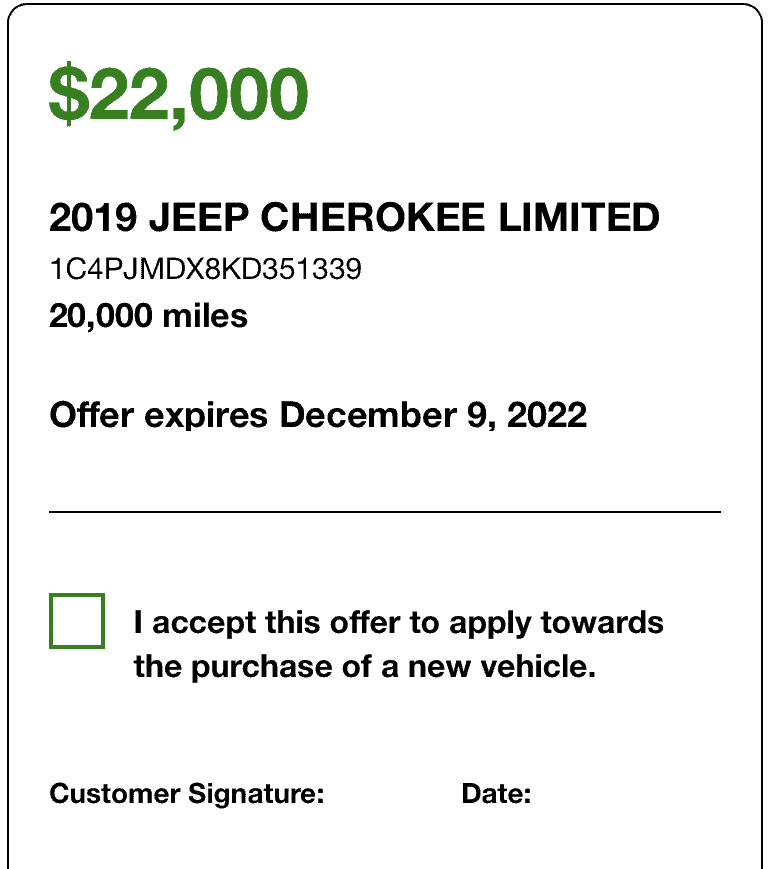 "We're communicating with consumers in their preferred method of communication. This allows Dealers to do a sight unseen appraisal communication back to the customer with a very nice, clean looking deliverable, so they can get the info and images desired, ability to text back and forth, to make an informed decision," remarked Peterson.