Top 10 Dealerslink Features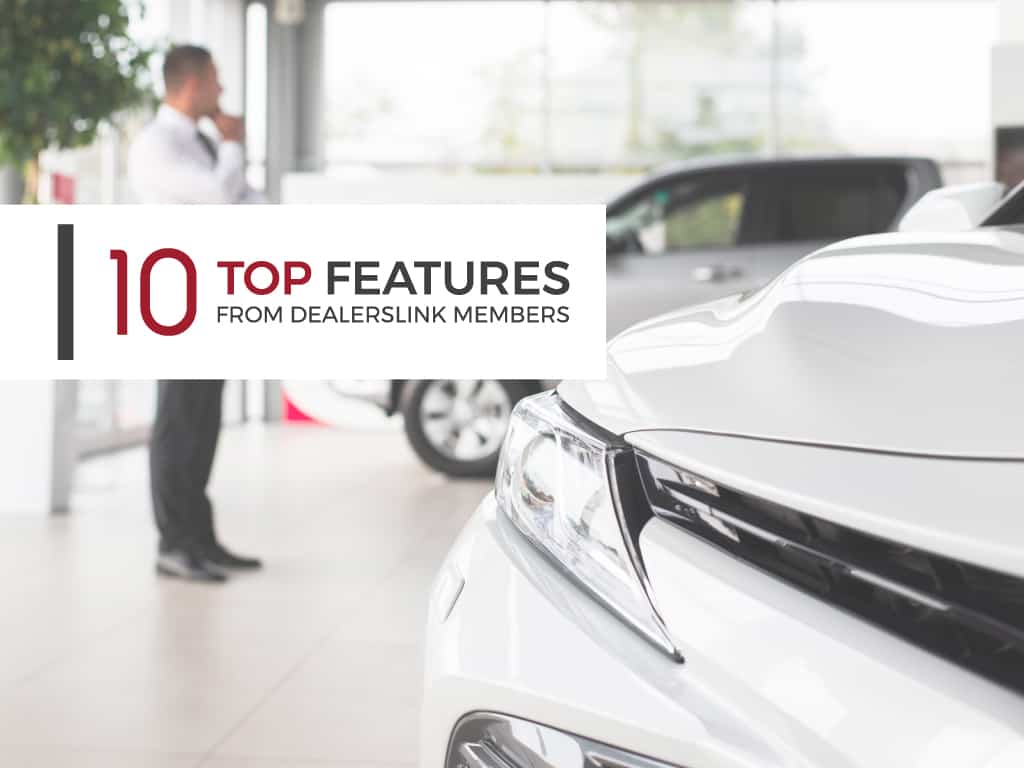 Dealerslink continues to be the fastest-growing dealership inventory management company in the nation because our products are easy to use and quick to implement.
Thousands of dealers use Dealerslink to source, appraise, price, market, manage, and exit inventory with the industry's most powerful all-in-one solution.
We recently asked our most successful dealer groups to rank their favorite Dealerslink features and tell us how they have helped them to operate more efficiently and effectively.
10: Industry-Leading Innovation
The Dealerslink development team is in a continual cycle of product improvement. Leading the industry in new and relevant cutting-edge features. Releasing three product enhancements per month on average.
9: Simple Single User Interface
From a fresh trade appraisal to a retail sale. From salespeople VIN scanning appraisals to the GM oversite level. Dealerslink users can access all tools from one simple interface. No more logging in and out of 3-4 different systems just to get a vehicle from sourcing to retail-ready or to track vital sales data and inventory reports.
8: NADA Pre-Book Report
This report gives Dealerslink users 7-10 days advanced notice of upcoming NADA book value changes. Be proactive with your inventory instead of reactive.
7: Inventory Merchandising
Dealerslink makes it simple for dealers to increase their online presence and speed to market with simple, accurate, automated, and industry-leading merchandising tools.
6: F&I calculator
Quickly identify the most profitable vehicle for every customer. Enter the deal structure, credit profile, and customer requirement and get the right car for your customer while maximizing profit. The tool searches your inventory, your dealership group inventory, or our wholesale marketplace.
5: New Car Pricing Tool
Full integration with OEM incentives allows Dealerslink users to simplify new-car pricing and syndication.
4: OEM Build Data
Integrated OEM build data provides all vehicle options and equipment from the manufacturer that are not decoded from the VIN (Participating OEM's only).
3: Competition View
The most accurate retail vehicle data sets compiled from retail dealer websites in your region. Use valuable market insights to make good inventory management decisions.
2: Industry-Leading Support
The Dealerslink support team is comprised of experienced retail automotive experts who fully understand the complex and rapidly changing automotive industry and provide our dealer members with tangible actionable strategies.
1: Dealer Direct Marketplace
A Dealer Direct Wholesale Marketplace with 3000+ dealers and 30,000+ vehicles. Dealerslink dealers enjoy access to upstream lot ready vehicles that will never get to an auction. All without transaction fees!
Dealerslink has more unique tools than any other inventory management system. Source, appraise, price, and improve your inventory performance.
To learn more about Dealerslink, request a demo or call 844-340-2522.