FastBook Cheat Sheet; Refining Your Appraisal Process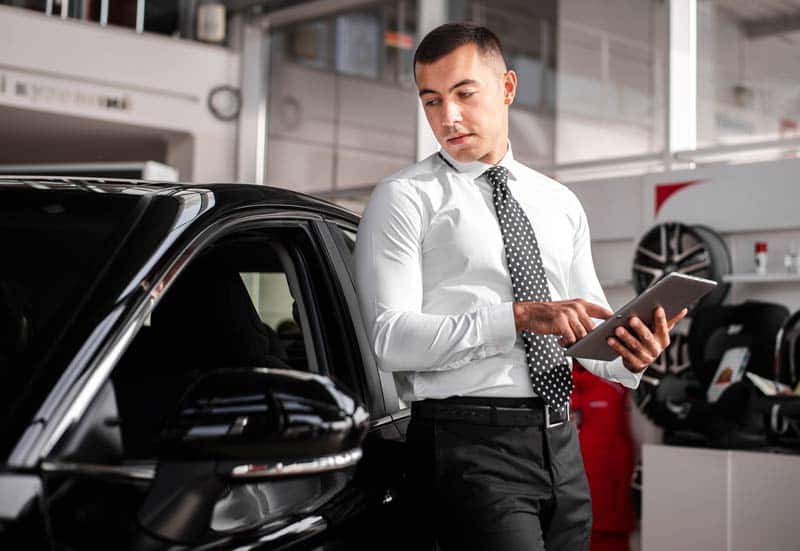 With the current uncertainty and a lot of craziness in today's markets, we are excited to see that so many of our dealer members are doing well.
Top dealer groups are putting a greater emphasis on perfecting their appraisal process to capture more trade-ins and off-street vehicles and is proving to be especially valuable now, as wholesale vehicle prices are high and consumers don't necessarily want to go through the process in the store.
Refining your appraisal process is going to be critical today and in the future to appraise cars effectively, said Dealerslink Performance Manager, Matt Childers.
To assist our members here is a quick run-through of some best practices for managing appraisals and trades in today's market.
Remote Appraisal Process
Sight-unseen appraisals are at a high degree of interest right now. Given the impact of the pandemic and the limited ability to meet as many customers in the showroom.
You'll want to gather as much vehicle information as possible beforehand because you don't want to overpromise and under deliver. They will want a realistic, accurate number.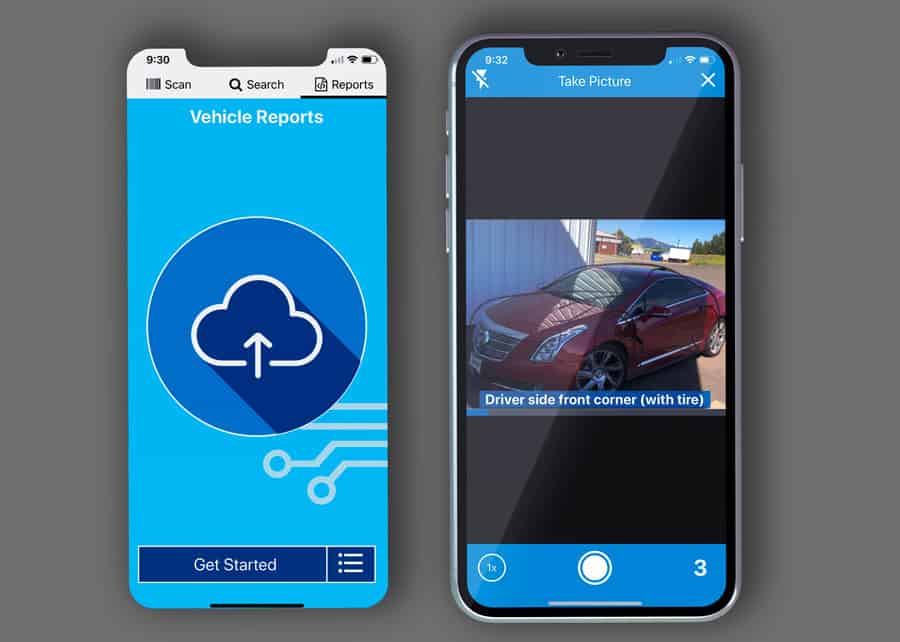 As we covered in a recent article, FastBook's latest integration with MotorCloud allows customers to submit their trade-in vehicles online. Allowing a major part of the appraisal process to be done virtually.
As long as you have all the appropriate vehicle data, you should be able to get a nice tight grouping of what that car's worth, without having a huge change from what they said it was condition wise to when they show up, said Childers.
Customer Interaction During the Trade-in Process
By doing a quick minute and a half walk around, the customer sees that there are several key points in the appraisal process that we would want them to try and get a picture of. The windshield, tires, underneath the engine bay, the typical things that you would check in an auction.
It helps validate that you do care and you want to be as accurate as possible and that you're not just shooting from the hip. This conveys trust to the customer that everything does count when you're evaluating their vehicle.
Our top groups are finding that self-rating is actually preferred by the customer and naturally drives their valuations lower.
Market Data/ Listing Data
If you want to be a leader in today's market, the "Devil is in the details". It's about knowing exactly what your competition is listing similar cars for so you don't unintentionally give away margin.
These are some of the key metrics you will want to dive into.
Are books and auction data updating fast enough?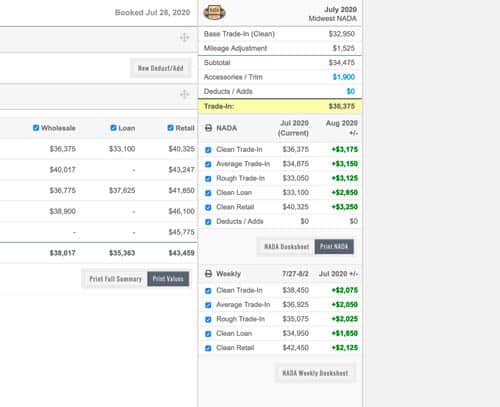 Historically Dealers have used book values pretty heavily to buy vehicles. Knowing exactly what they could turn around and sell a unit for. This has been a good strategy but with volatility in the market right now book and auction data are not always updating fast enough. With the Dealerslink NADA PreBook report, dealers can see NADA projected values a week early so they are not only seeing what the value of a particular unit was last month but can see the current value as well as what it will be next month.
Vehicle Grade and Days Supply
Dealerslink Vehicle Grade is a way of predicting how a used vehicle will perform as an investment. Then presenting that information with a simple letter grade. Traditionally Dealers have used the calendar or just velocity to assess a vehicle's investment value. Vehicle Grade uses a combination of store and local market velocity as well as mileage, supply, and vehicle condition to give you a clear view of a vehicle's potential profit from day one.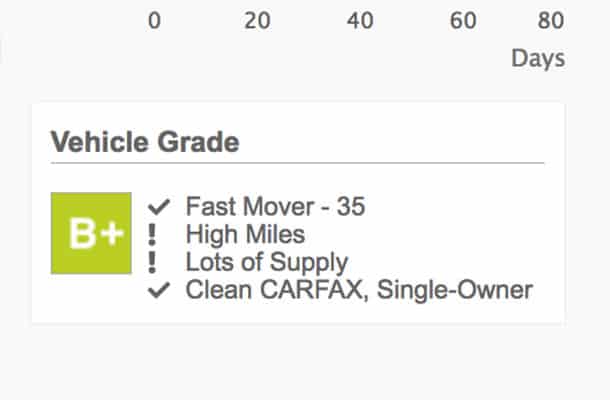 Traditionally vehicles with low-miles-per-year that turn under 45 days sold for a premium. With current market conditions and wholesale prices it is worth further expanding the scope of mileage ranges and turn averages.
Equipment and Packages
It's important when you're looking at competitive sets that you're seeing all the like cars in your market with the exact equipment and excluding the others. CompView lets you dive into the individual vehicle listings to verify vehicle packages and options. We all know that a thousand dollar sport option or package could be a real difference-maker.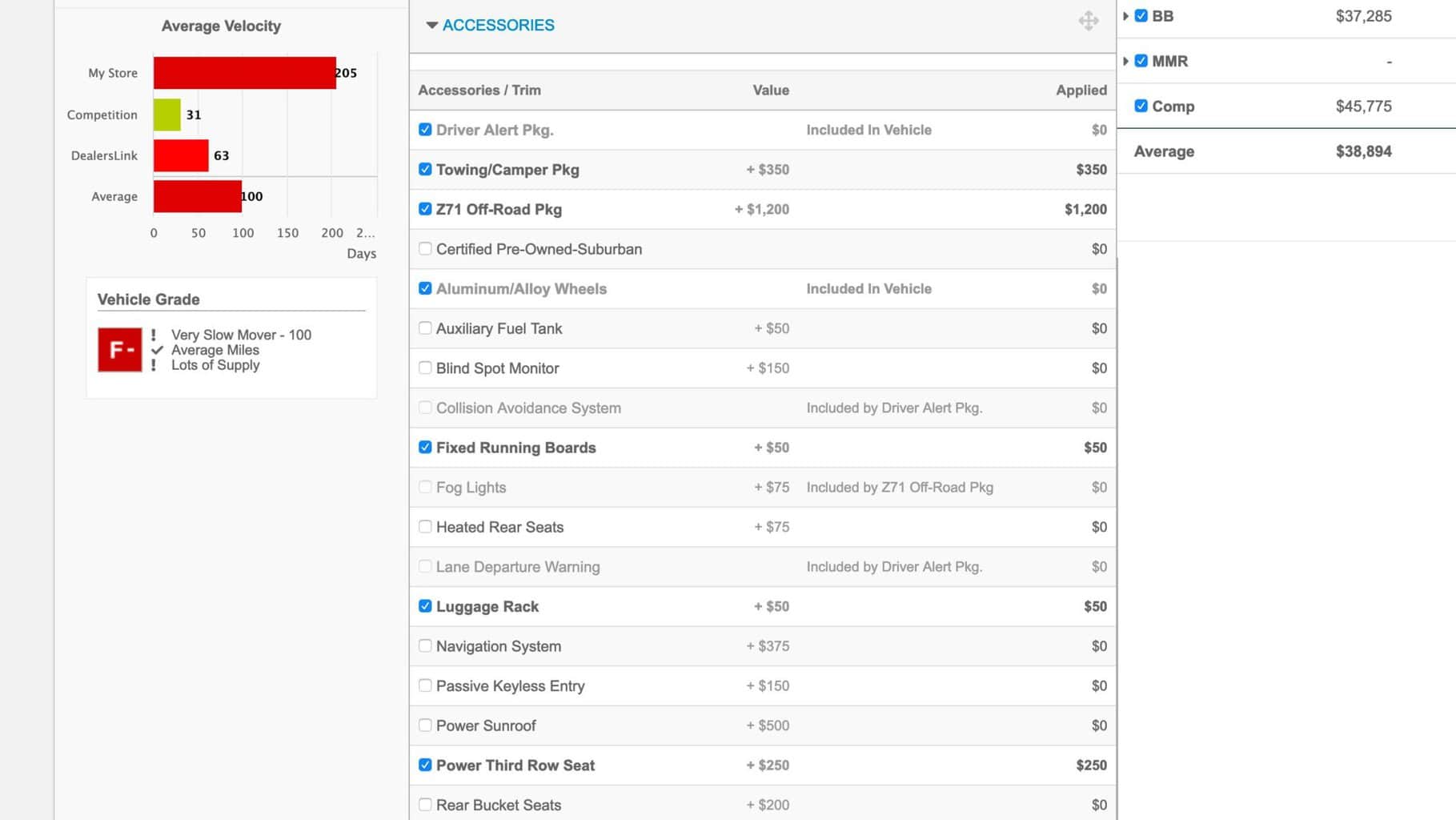 With Enhanced OEM Data from Dealerslink, original packages and options are automatically applied. Greatly speeding up the appraisal process and leading to more accurate appraisals. You can even pull the original OEM window sticker. Making sure you have all the correct data at your fingertips.
Cost to Market and Percent to Market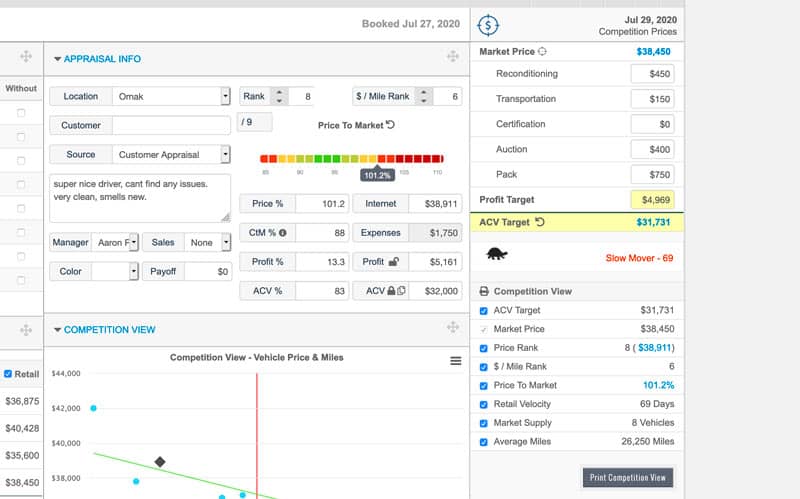 It goes without saying before you acquire a piece of inventory you want to be able to put it through a retail test. This helps to understand what your percent to market will be, what your cost to market will be, and where it ranks based on your estimated recon, fixed costs, and target gross.
Pricing alerts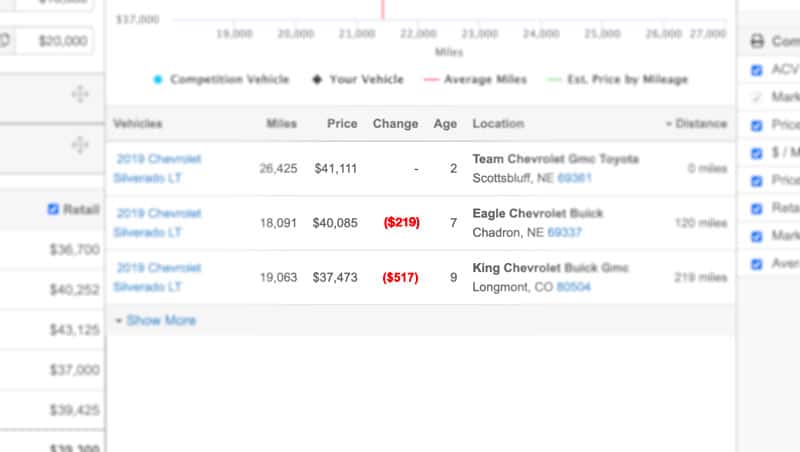 Right now we're in a unique situation with auction backlogs and lease returns being delayed but looking forward there will be a lot of rental and off-lease cars that will hit the market at the same time and we all know supply and demand works. If the market gets an oversupply of dodge challengers for example you're going to see prices dip pretty quickly. Pricing alerts are something you want to look at regularly to track trends in the market.
If you are interested in updating your appraisal process or would like to know more about any of these features please call 844-340-2522, or request a live demo today.
Dealerslink provides VIN valuation, vehicle sourcing, vehicle appraising, retail market pricing, exit strategies, and much more. To put it simply, Dealerslink will help you find vehicles, appraise them, price them, and sell them.