Hurricanes Limit Available Used-Car Inventory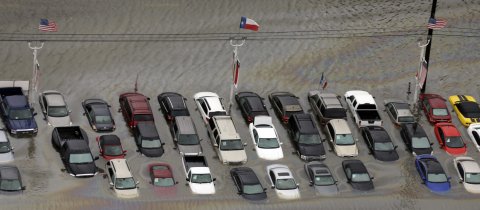 Most Americans can't recall such a devastating one-two punch as what befell Texas and the Southeast when Hurricanes Harvey and Irma hit within about a week of each other. Meteorologists say this is the first time in 166 years of weather records that two Category 4 hurricanes have hit the United States in the same year.
Short-Term Impact on Auto Industry
The two hurricanes' impact on the auto industry is severe. According to
USA Today
, Hurricane Harvey likely destroyed more vehicles than any other natural disaster in U.S. history.
Cox Automotive estimates that Harvey damaged about 320,000 to 580,000 vehicles owned by individuals. Black Book estimates that up to 1 million vehicles (including commercial and fleet vehicles) along the Gulf Coast were ruined. About one in seven cars in the Houston area were destroyed, and more than 500 dealerships in the greater Houston area were impacted. Texas accounts for about 9 percent of auto sales nationwide.
On top of that, pile on the damage that Hurricane Irma brought when it hit Florida and parts of Alabama, Georgia and South Carolina. Cox estimates that
Irma
irrevocably damaged as many as 400,000 vehicles in Florida. Enjoy yourself with the
cleopatra free slots
. Whereas damage from Harvey was mostly due to flooding, Irma's destruction included high-speed winds and heavy rain.
As a result of both major storms, as many as 1 million vehicles in the country will need to be replaced. Contrast that with the estimated 250,000 cars lost due to Hurricane Sandy, and the 200,000 that Hurricane Katrina destroyed.
As further proof of the national impact of these hurricanes, NADA and J.D. Power took the unusual step of putting out book values in mid-September, instead of waiting until October, to reflect the change in pricing that essentially happened overnight. In an email, they stated "… it is clear that the reduction in the supply of vehicles and the accompanying demand for replacements is sufficiently large enough to impact the used vehicle market."
The good news is that – much like what happened in the months after Sandy – sales are expected to rebound quickly. Car sales in New York State increased nearly 50 percent the month after Sandy hit. SUVs and pickup trucks are popular in Texas, and experts predict sales for the Chevy Silverado, Ford F-Series and Dodge Ram trucks will see significant increases.
While that is certainly good news for the industry as a whole, used-car dealers are rightly nervous that their access to inventory will be curtailed due to the two storms. Florida is home to several major auto auctions that are in the process of assessing the full damage. New and used-car inventory being redirected to the affected regions will lead to scarcity in other areas.
Long-Term Impact on Inventory
As a potential hedge against that, dealers should explore alternative forms of vehicle sourcing. One such solution is the Dealerslink
Marketplace
, which provides 24/7 access to clean retail-ready inventory from dealerships across the country. With minimal reconditioning and no auction fees, the marketplace delivers an additional savings to dealers.
"The catastrophic hurricanes in Florida and Texas have created a once-in-a-decade type demand event on the used market," said Dealerslink CEO Mike Goicoechea. "Within a week our demand numbers have almost doubled, as our dealer-direct market is a natural go-to resource for scarcity in traditional auction markets. We expect this demand trend to persist through the first quarter of 2018."
We addressed new ways of sourcing vehicles in a recent
blog post
. While it may involve going beyond the comfort zone for some dealers, these alternative sources of inventory are on-demand and always available when traditional inventory avenues tighten up.
The staff of Dealerslink wishes the best for our friends and associates in the impacted regions. You remain in our thoughts and prayers, and we remain committed to helping dealers to not only survive but thrive in difficult times.