DealersLink Releases FastBook Pro 5.0 Booking Tool
Features improved VIN scanner and state-of-the-art enhancements.
Broomfield, Colo., May 16, 2017 – DealersLink, an industry leader in automotive systems integration and networking technology, has announced the release of its new FastBook Pro 5.0 booking tool. FastBook Pro 5.0 allows dealers to scan vehicles' VINs and book out NADA, KBB, MMR, Black Book, CARFAX and AutoCheck simultaneously, as well as view live local retail-market pricing.
Version 5.0 was completely rebuilt from the ground up and includes these new features:
– Swipe navigation
– Faster multi-threaded book retrievals
– Improved superfast VIN scanner
– Matrix of all book conditions
– Vehicle grades, competitive pricing and velocity charts
– Improved user interface design
– Previous book-out launch list
Compare NADA, KBB, MMR and Black Book simultaneously.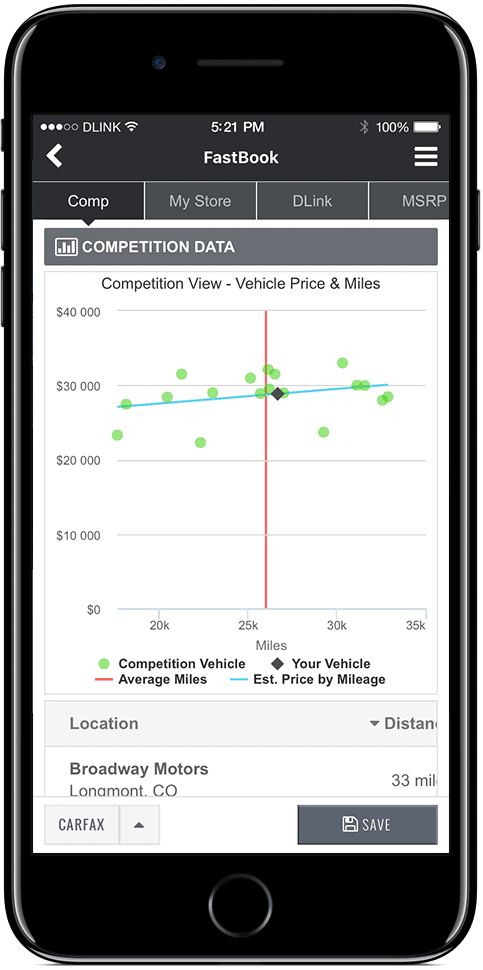 FastBook Pro 5.0 competitive pricing and velocity charts.
FastBook Pro 5.0 is now available from the Google Play store and iTunes. DealersLink members receive a free FastBook license with their membership.
"FastBook Pro 5.0 has the fastest VIN scanner on the market today," said DealersLink CEO Mike Goicoechea. "It will help take the risk out of live auction bidding. As dealers consider inventory and decide whether or not to bid, they can use the app to instantly compare multiple book values on the fly. It's fast, accurate and ensures they have all the information they need before placing a bid."
To find out more about FastBook Pro 5.0, view a video or request a live demo, call 844-340-2522 or email info@dealerslink.com.