Dealerslink Introduces New-Car Pricing Tool at NADA Show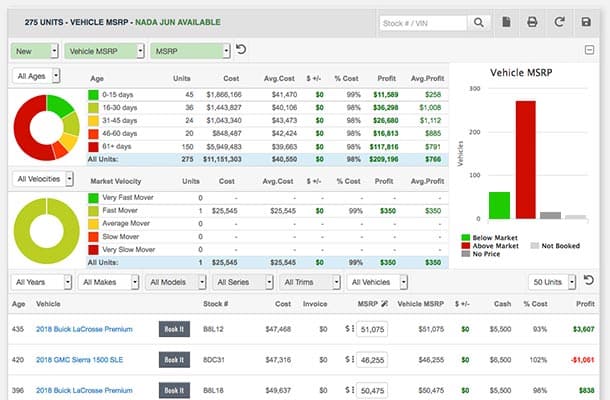 Dealerslink announced it will unveil its highly anticipated new-car pricing tool at NADA Show Expo March 23-25 in Las Vegas. The NADA Show Expo is the auto industry's premier marketplace of products, services and technologies specifically targeted to franchised new-car dealerships.
Visitors to booth 337N next to Chrysler will be able to meet with Dealerslink's dealer consultants and see a demonstration of the new-car pricing tool, in addition to the dealer-to-dealer Marketplace and innovative tools for inventory management, booking, live market pricing and photo management.
With margins at all-time lows, dealers need to turn new-car inventory even faster in order stay afloat. Turning inventory twice as fast means twice the opportunities for F&I, factory bonus money, trade-ins and future service business. Dealerslink's new-car pricing tool gives dealers an affordable tool to actively monitor and manage new-car pricing.
The new-car pricing tool includes these and other features:
Competition View – Lets dealers know who their new-car competitors are, and how they are pricing their inventory to market.
In-Depth Descriptions – Vehicle listings include robust descriptions that include all the features and equipment consumers are looking for.
Rebate and Incentive Management – It's critical for dealers to have all rebates and factory incentives listed on their inventory 100 percent of the time and properly disclosed. Consumers don't want to wait while a dealer checks on the price and rebate, and promises to get back to them.
Automated Updates – Manually pricing and updating new cars can take up to 10-15 hours per week to do properly. Dealerslink's new-car pricing tool helps to automate the process and free up staff to do what they do best – sell vehicles.
Supply and Demand – Gives dealers insight into supply and demand for each vehicle, and helps inform purchasing decisions and dealer trades.
Dealerslink's new-car pricing is available for one flat fee per month, with no contracts and no setup fees.
"We're offering the most affordable new-car pricing tool in the industry," said Dealerslink CEO Mike Goicoechea. "On average, dealers who switch from their current tool to ours are able to save more than 50 percent off their monthly bill. Plus, we don't charge you an extra fee for each additional franchise under your roof."
For more information on Dealerslink, visit public.dealerslink.com, call 844-340-2522 or email info@Dealerslink.com. Follow the company on LinkedIn, Twitter and Facebook.