Competition View MSRP – A New Way to Look at New Car Pricing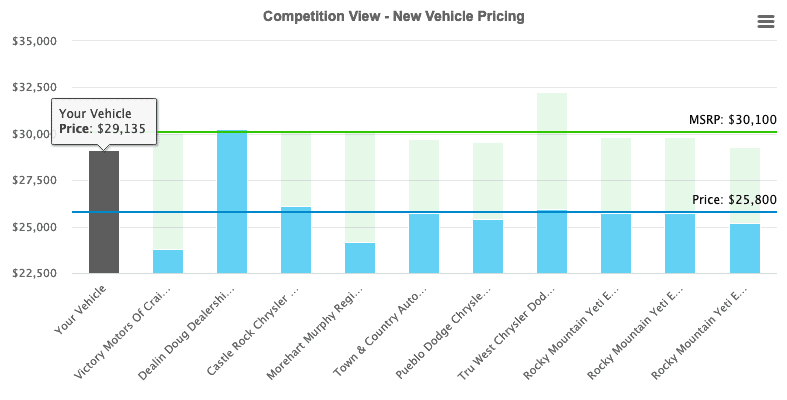 "The margin for error with your new cars has never been smaller." We have heard this frequently in the past few years, but in 2021 it couldn't be more true. That's why Dealerslink is proud to introduce Competition View MSRP.
New Car Margins are tighter than ever. With so many OEM rebates and incentives, there is very little transparency in the retail market. To accurately compare new car pricing inside regional markets can be difficult and time-consuming. With fragmented data from various providers, new car dealers cannot afford errors or inaccurate calculations.
Competition View MSRP uses true-market-data to provide new car market transparency to instill confidence and drive strong new car pricing strategies for dealers.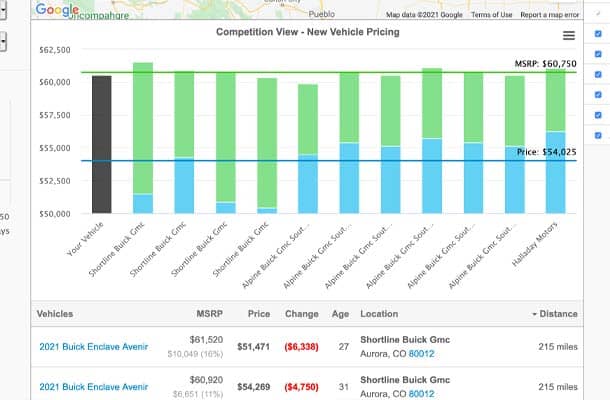 In this next evolution of Competition View, Dealerslink collects all MSRP pricing from online sites allowing dealers to visually identify how competitors are pricing their vehicles vs. MSRP.
New car pricing can be very tricky to compare across different dealerships with so many rebate options and discounts offered by the OEMs. Charting MSRP in our new car competition view feature allows dealers to evaluate similarly priced units more accurately and to see how the competition is pricing those units based on the percentage discount from MSRP.

Matt Childers, Dealerslink Performance Manager.
Know exactly where to price new cars to sell more and see more profit.
In conjunction with Pricing Heat Maps, Competition View MSRP provides unparalleled market transparency and competitive insight into regional new car markets so that dealers can optimize each sale.
Dealerslink helps dealers to maximize the profitability of their new vehicle sales. Presenting retail market data in a simple, effective, and intelligent manner that guides dealership stocking, merchandising, pricing, and inventory decisions.
Competition View MSRP
The most powerful new car enhancement from Dealerslink and the most in-depth retail market analysis tool in the industry.
Schedule your demo now to see how Competition View can give you the advantage.