When sourcing inventory at auction, accepting a trade-in or selling a pre-owned vehicle, you need solid, reliable information. It makes the difference between success and failure. This leaves dealers with a tricky question: CARFAX or AutoCheck?
CARFAX and AutoCheck are the two most popular vehicle history reports on the market, and offer many of the same advantages. Both provide a fairly reliable account of the emissions history and accident history of any given car. But is one really better?
Let's look at the pros and cons of CARFAX vs. AutoCheck.
CARFAX
Founded in 1984 CARFAX was the first vehicle history report on the market, giving them a number of key advantages.

Pro: Name Recognition
Thanks to clever advertising and a catchy saying "Show me the CARFAX", CARFAX is by far the most well-known vehicle history tool by consumers. In fact, customers often ask for it outright.
Pro: Higher Consumer Trust
With such high notoriety, customers simply trust a CARFAX report over just about anything else. Is a CARFAX report actually more trustworthy? Many dealers feel AutoCheck is more accurate due to its data sources, but both reports essentially provide the same information.
This popularity and trust gives CARFAX dealers an advantage when making a sale.
Pro: Open Recall and Guaranteed Buyback
CARFAX has a few features that AutoCheck doesn't, specifically open recalls and a guaranteed buyback program. Open recall allows dealers to spot and announce cars with reported open recalls, allowing you to factor this into your bid or trade offer.
To make shopping for a used car as risk-free as buying a new one, the CARFAX Buyback Guarantee comes on every CARFAX report that doesn't show any DMV-reported problems. Buybacks rarely happen but this adds another level of trust for consumers and another sales tool for the dealer.
Con: Cost
CARFAX charges a premium for their service, and can be up to several times more expensive than AutoCheck, but many dealers are willing to pay the price if it means an easier sale.
AutoCheck
AutoCheck has less brand recognition but is still in high favor among car dealers.
Pro: Tracking Auction Cars
AutoCheck is far better at tracking auction cars. AutoCheck currently maintains exclusive access to data from the two largest auction houses in the US, Manheim and Adessa, through its parent company Experian. This obstacle makes CARFAX less useful since many used cars have been auctioned off at some point in their history.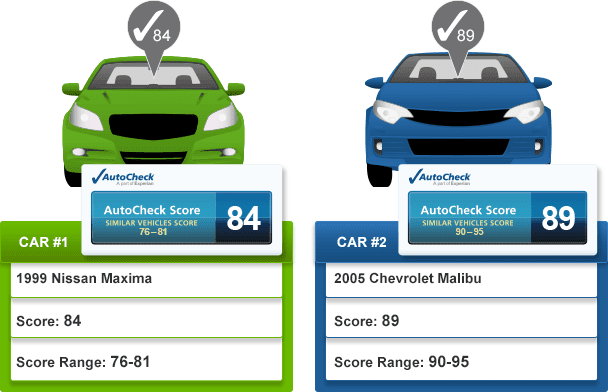 Pro: AutoCheck Score
The patented AutoCheck Score is like a credit score for cars. It enables you to understand a vehicle's past quickly and easily, compare it to other similar vehicles, and lower the risk of buying a vehicle with undetected problems.
The AutoCheck Score is based on a scale of 1 to 100 and much like a credit score for cars the higher the number the better the history. The score is affected by accidents, mileage, damage, and whether the vehicle was ever stolen, repossessed, or has been branded as a lemon.
Pro: Low Cost
As mentioned above AutoCheck can be several times cheaper than CARFAX.
If you're willing to overlook the name recognition, choosing AutoCheck is an obvious conclusion from a price standpoint.
Con: Lack of Recognition
The lack of name recognition also leads to lower brand trust, but choosing AutoCheck over CARFAX won't tank your sales. With proper sales training, the lack of name recognition can be mitigated. Your sales team will have to educate customers on the value and advantages of AutoCheck.
The Winner?
Although many used car lots prefer AutoCheck, the popularity of CARFAX is not likely to diminish anytime soon and which tool you use really comes down to the way you run your dealership.
When it comes to the quality of vehicle history reports, CARFAX and AutoCheck are essentially equal. Both do a really good job, distinguished by just a few features on either side.
With that in mind, you really can't go wrong choosing either report.
Luckily both CARFAX and AutoCheck sync up with your Dealerslink account, giving you vehicle history information right inside your car appraisal, pricing tool, and the Dealerslink Marketplace. Now you can better support your price point and improve your trade-in and appraisal process to lower risk as well as increase your bottom line.
For more info about Dealerslink and our integration with CARFAX and AutoCheck contact us at 844-340-2522.