In automotive digital marketing, VDP stands for vehicle detail page and is a key metric for analyzing and optimizing a vehicles'
merchandising strategy
.
Why VDP Metrics Are Important?
A VDP view is the virtual equivalent of a shopper coming into browse a specific vehicle on your lot. Because shoppers viewing dealer inventory pages tend to be further down in the purchase funnel VDP optimization is extremely important for generating calls and visits to your dealership.
More VDP Views = More Car Sales
Not exactly. While there's no magic silver bullet to selling more cars, VDP views can give you valuable insight into the merchandising health of a specific vehicle on your lot.
If a vehicle is aging with limited online views and lead conversion it might be beneficial to review photos of the vehicle, the description, adjust pricing or craft a new campaign designed to move those specific cars faster. It also helps you make decisions about your inventory mix so you can stop buying cars that aren't getting a lot of interest in your market.
On the flip side, if a vehicle is receiving a lot of views with limited lead conversion it might be priced too high.
Evaluating your VDP activity enables you to dial into shopper traffic and identify exactly which types of vehicles consumers are interested in at any given time.
Are you tracking VDP metrics?
Tracking VDP views used to be a difficult and confusing process requiring third party vendors or creating complex attribution models in Google Analytics.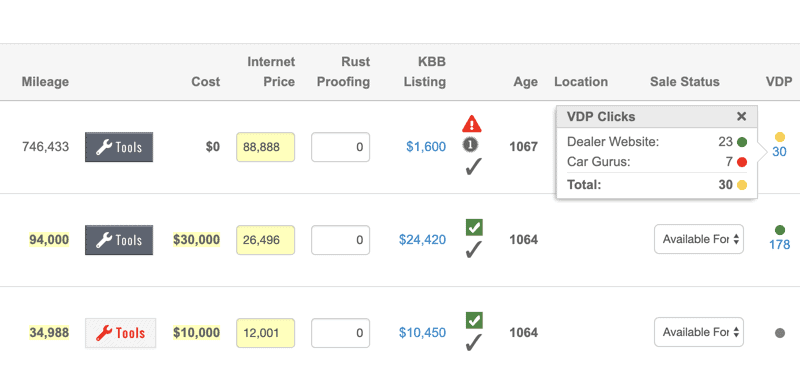 With VDP integration from Dealerslink, members now have the ability to monitor website and CarGurus VDP stats directly in their inventory manager to quickly determine which vehicles are attracting the most consumer traffic.
For more details about adding VDP tracking to your website or for a live demo please contact us at (844) 340-2522.