When we relaunched the Dealerslink blog early last year, we began with a three-part series chronicling the
history
of the company and its founding by auto industry executives. While that blog series included the company's early days as a startup in Colorado, introduction of new products, and expansion into additional states, length constraints prevented us from including other major milestones.
As we head into Q4 of 2018 and Dealerslink continues to expand across the country, our growth would not be possible without our members believing in our dealer-direct model and helping us expand through referrals and word-of-mouth promotion.
Most of our members were immediately impressed by the value we offer, liked what they saw, and started spreading the word about our no-fee dealer-to-dealer
Marketplace
and
inventory-management
tools to their colleagues at the statewide and national dealership levels.
To illustrate the growth of our membership base, we created this graphic to show our regional expansion timeline. The more members and states we add, the more inventory we make available to our members.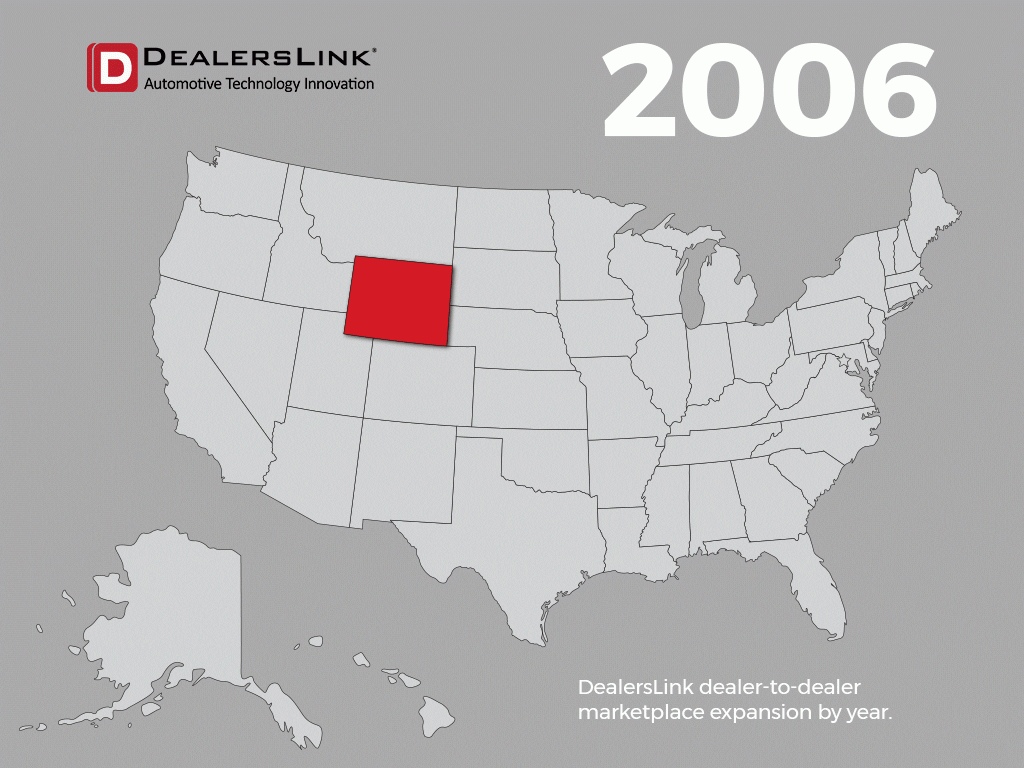 Following are some notable company milestones that didn't necessarily make it into that blog series on our history.
2009
–
ExportPro
Automated Merchandising tool released
2012 – Marketplace hits $500 million in inventory
2014 – Marketplace hits $1 billion in inventory
2014
–
CompView
competitive market pricing launches at the NADA Show
Nov. 11, 2015 – Tenth anniversary of Marketplace
2015
– Launches
AuctionLink
live online wholesale vehicle auction
2016 – Adds the following dealers' groups: Rob Green, Butler, Haselwood, Dave Smith, Strong Auto Groups
If you aren't yet a Dealerslink member, we invite you to come grow with us. Email us at
info@Dealerslink.com
or call 844-340-2522 and find out more about how you can profit from joining the best dealer-to-dealer market in the country.